When mageborn assassin Jaerak Thorin stumbles across an ancient book he has never seen before, he is understandably shocked to find an unfamiliar woman's name written in his own handwriting inside the front cover. His subsequent questions and burning ambition lead him towards incredible power, the love of his life, and five perfect magical jewels that eclipse all other possible desires.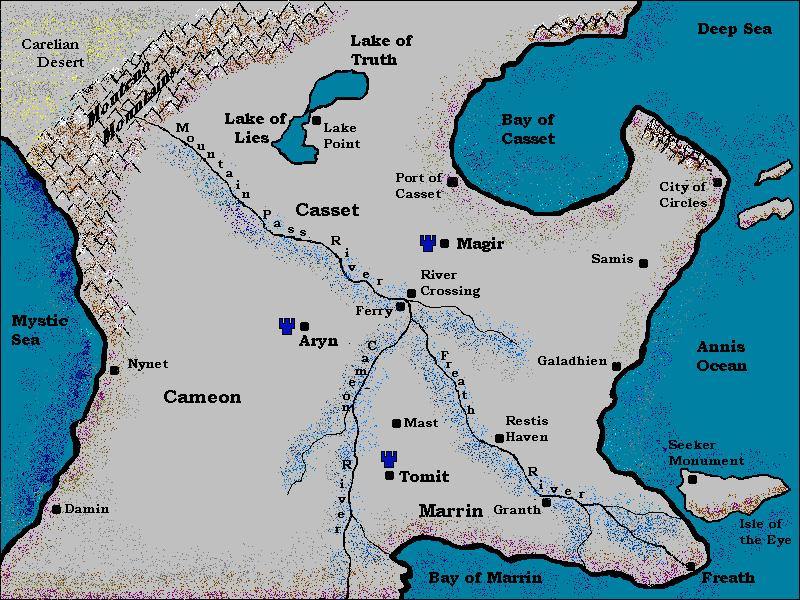 Map of the Triad Realm
In a land where the use of magic is punishable by death, aging Seeker Gwynne Davanir was content to live out the rest of her life in obscurity. But when the impossibly beautiful Jaerak Thorin shows up on her doorstep with a book that had disappeared from her library more than ten years before, she finds herself on a path where salvation and damnation are so closely entwined that she is unsure which she has chosen. With Jaerak close on her heels, her only hope is to find the Eye of Truth, a woman promised by an ancient and nearly forgotten prophecy.
Plans for an arranged marriage have Aliane el'Gregarian running for her life. When she teams up with Gwynne Davanir, she finds hope and comfort in the small spark of magic in her soul. When she meets Jaerak Thorin, she suddenly finds her world torn, her desires in conflict. But when she learns she may hold the fate of all magic in her hands, Aliane must face her most terrifying fears head-on and blind. Can she accept the support and help of her friends while she desires the love of her enemy?