The Saga Continues...
...as the next installment of The Timestone Trilogy arrives!
After five hundred years of slaughter and death, the Epoch of the Eye has finally begun in the Triad Realm. The Eye of Truth has been found and only just in time, for the fate of all magic is perched on the brink of extinction. Chaos rules the land as King Morgan and his army of the Onnic tighten their grip and expand their reach, spelling war and destruction for everything they touch.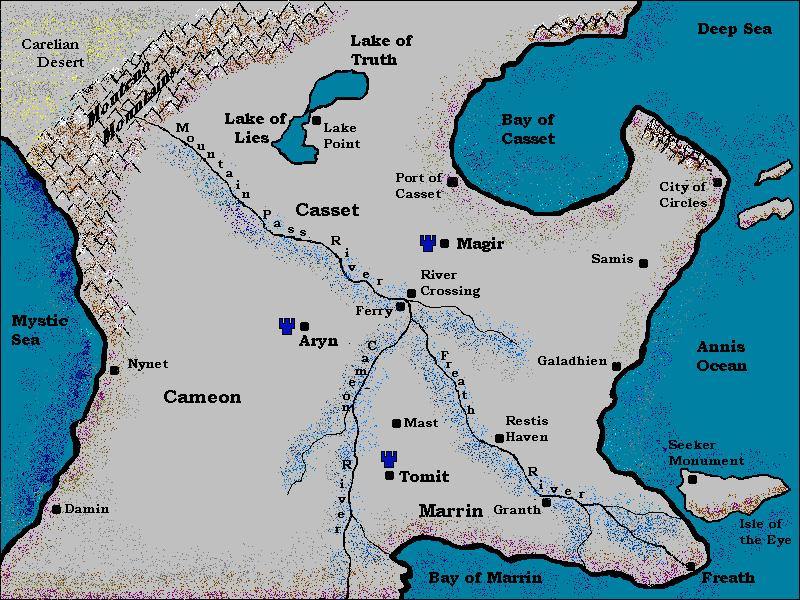 Map of the Triad Realm
Unfortunately, Aliane el'Gregarian and her band of friends are as much in the dark as ever, and Aliane is hindered by her deadly fascination with the treacherous and seductive mageborn assassin Jaerak Thorin. With civil war breaking out in Freath, her father's abduction, and her friends Gwynne Davanir and Thalan Dushar in peril, Aliane must face Jaerak as an enemy--though he touches her heart with the hands of a lover.
Can Aliane save herself and her friends, learn the truth about her heritage, prevent a full-scale war, foil Morgan's imperialisic plans, and find the five magic Pyaerea Stones without falling prey to either Jaerak's charm or the Onnic sword? Even she does not know the answer.
But she is about to find out.